Are You Looking For Something Completely Different?
Heirloom Tintype Portraits at Glens Falls Art.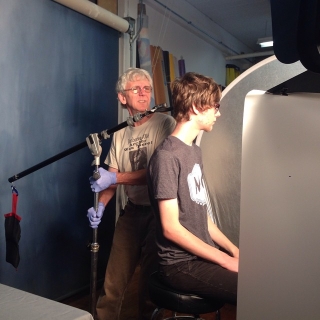 The Tintype Studio at Glens Falls Art
Wet Plate Portraits and Reproduction Daguerreotype Cases made by hand from original cases.
G
lens Falls Art, having outfitted the photography studio for the purpose of taking TINTYPES respectfully informs the citizens of Glens Falls and neighboring towns that we are ready to take 
LIKENESSES
 of all who may favor us with their patronage. All those wishing an extraordinary likeness of themselves or their friends that will stand the test of time would do well to call soon. We are confident that neither the Pictures, Process, nor Price will fail to suit.
The Wet Plate Collodion process was invented by English artist Frederick Scott Archer in 1851 and lasted through the late 1800's. Wet Plate refers to the fact that the metal or glass plate must be exposed and processed before becoming dry. The image you will receive is created the same way photographers like Mathew Brady and Alexander Gardner would have used during the Civil War.
The Tintype Studio |
WATCH THE VIDEO!
Experience Glens Falls Art!
Art Talks.

Art, meet History.

Travel back in time as you hear about the unique history of photographic arts. Watch the process and learn how truly special it was to see and hold a family photo.

Tintype Portrait Studio.

Experience what made a photograph so special during your own

portrait session.

Gallery And Shop. Admire and purchase artwork form The Glens Falls Art family of artists.

Glens Falls Art Gear.

Black and White basics. You'll

LOVE

our t-shirts and aprons.
Here's What Some Of Our Customers Have To Say
We love Glens Falls Art! Outstanding portrait studio! – Sherri
Wonderful case and tintype portrait! Thank You!
You do amazing work. I highly recommended the studio!
It was a great time. I loved it and loved seeing the tintype in action.